LABSA
97.5% (Linear Alkyl Benzene Sulfonic Acid)
Also known as: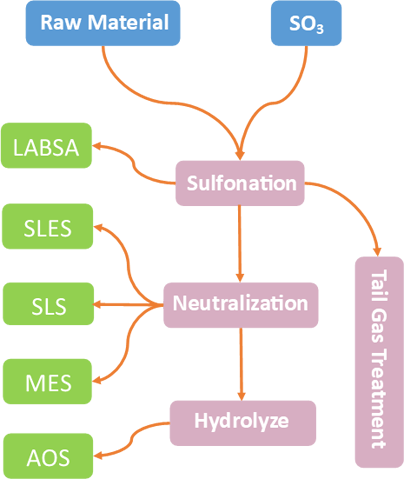 DBSA, DDBSA;
Raw Material:LAB(Linear alkyl benzene);
Applications:As the raw material of detergent,Widely used for producing various detergents and emulsifiers, such as washing powder, detergent of dishware, detergent of light or hard dirt, cleaner of textile industry, dyeing assistant, degreaser of plating and leather making industry, and the deinking agent of paper-making industry, etc.
SLES
1,4 Dioxane <10 PPM(Sodium lauryl ether sulfate)
Also known as:AES(Sodium Fatty Alcohol Ether Sulfate);
Raw Material:AEO(Fatty Alcohol-polyoxyethylene Ether);
Applications:SLES is an anionic detergent and surfactant found in many personal care products (soaps, shampoos, toothpaste etc.), it is widely used in liquid detergent, such as dishware, shampoo, bubble bath and hand cleaner, etc. SLES can also be used in washing powder and detergent for heavy dirty. In textile, printing and dyeing, oil and leather industries, it is the lubricant, dyeing agent, cleaner, foaming agent and degreasing agent.
SLS(Sodium Lauryl Sulfate)
Also known as:K12、sodium dodecyl sulfate or sodium lauryl sulfate;
Raw Material:CAF (Fatty Alcohol);
Applications:SLS is a widely used surfactant in cleaning products, cosmetics, and personal care products. is a highly effective anionic surfactant used to remove oily stains and residues. It is found in high concentrations in industrial products, including engine degreasers, floor cleaners, and car wash products. SLS is also used in lower concentrations in household and personal care products such as cleaning products, toothpastes, shampoos, and shaving foams.
MES (Fatty Acid Methyl Ester Sulfonate)
Raw Material:vegetable oils, palm oil or Hydrogenated palm oil methyl ester (ME) etc.;
Applications:MES is used for various purposes such as bar soaps, detergent powders, and lime soap dispersants liquid and hard surface cleaners and mainly suitable for concentrated enzyme detergent manufacture. MES is a renewable raw material, and has good environmental compatibility, hard water resistance, high biodegradability, low irritation, and good detergency. MES is especially suitable for concentrated enzyme detergent production. It can be used in ore flotation agents, emulsifiers, leather processing aids, fiber spinning finishing agent, mold release agent with rubber, paint and oil dispersant, wetting agent in agricultural chemicals, textile auxiliaries.
AOS(Sodium Alpha Olefin Sulfonate)
Raw Material:alpha olefins (AO);
Applications:Body washes, shampoos, bubble baths, cleansing lotions, various personal care cleansing products.